EGMap 2.0 has been uploaded. Please, be informed that this new version has not BC for the sake of better code. Its code has been very much reduced. Still lot of work to do but the base has been created.
Hope you enjoy it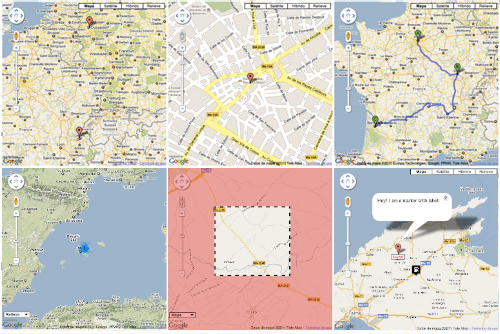 Bug reports, suggestions, examples in this forum post.
Thanks for your feedback:
http://www.yiiframew...xtension/egmap/
ChangeLog
Please update the libraries to EGMap 2.0

20-03-2011
- Included support for Polygons [Committer Mat Kay]
11-02-2011
- Included support for language and region maps
11-02-2011
- Included support for addDOMEventListenerOnce and addEventListenerOnce (thanks
Johnatan
)
03-02-2011
- Fixed small bug on the registerPlugins Functions (thanks
Rangel Reale
)
03-02-2011 version 1.0.0
- Code completely re-written
- KML Support
- KML Libraries included
- Most of the libraries now extend from EGMapBase
- Magic getters and setters for methods preceded by set or get (Yii style) and for its options array
- Better Clusterer Support
- Inclusion of new plugins
-----------------------------------------
Previous Versions not compatible with this one
-----------------------------------------
24-01-2011 version 1.8
- Added MapType Controls Styles and Positioning
- Fixed minor bugs throughout all the library classes
- Included EGMapPoint and EGMapSize classes to the library
- Code cleaning, improved code algorithms
- Included EGMapKeyDragZoom class to allow 'shift-click-and-drag' option
- Included EGMapControlPosition Class, now we can easily set controls on different positions on the map - Included EGMapMarkerWithLabel class to allow markers with labels
- Included EGMapMarkerClusterer class to support marker clusterer feature
- Fixed common sharing info window option. Now users can choose whether to share a common info window variable or not
- Improved options encode. Included modified version of CJavaScript::encode to properly render Google Maps options.
11-01-2011 version 1.7
- Bug Fix EGMarkerImage class
- Added Support for Global Info Window Reference. Now, only one info window is open at all times. (Thanks bitmatix)
10-01-2011 version 1.6
- Removed EGMapIcon class (deprecated for Google Maps v3)
- Modified - Added setIcon, getIcon, setShadow, getShadow functions to EGMapMarker class
- Removed deprecated functions and references on EGMap class
06-01-2011 version 1.5
- Removed global_variables dependency
- Fixed minor javascript bug for global variables
- Fixed minor naming rendering bugs (jsName)
- Included possibility to change jsName
24-12-2010 version 1.4
- Fixed marker reference when rendering multiple maps
- Fixed directions reference when rendering multiple maps
- Fixed global variables registration bug - Fixed minor rendered javascript bugs
- Fixed rendering container bug THANKS MDOMBA (Yii support really rocks!)
- Added appendTo function to add maps to a container ID in the page
- If no appendTo JQuery ID is set, Maps will be appended to document
- Removed initialization function name dependency. Now the function is related to Map Ids.
23-12-2010
-Fixed bug on getMarkersFittingZoom function
-Fixed bug on getMarkersCenterCoord function
Uploaded new version 1.1